Fall 2016 - Expanded Edition!

Tool & Equipment Buyer's Guide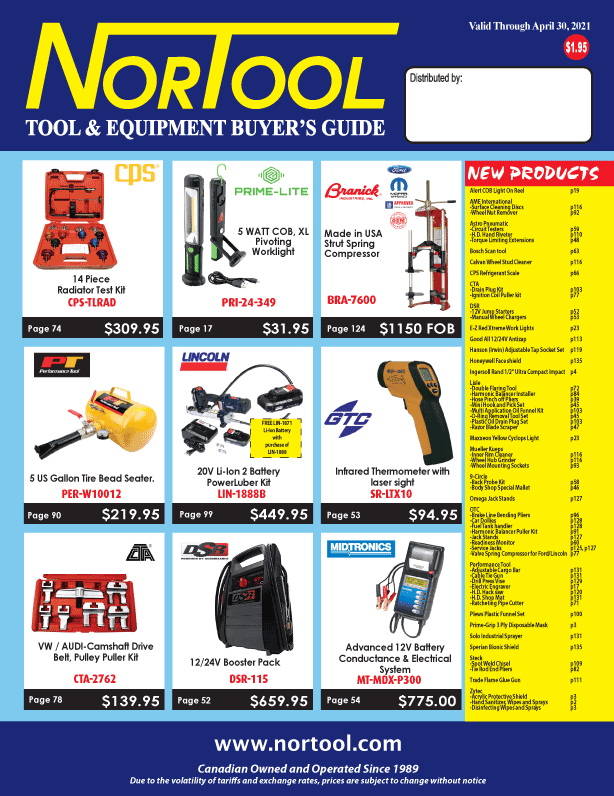 View our Catalog Online here!
Download PDF of our Catalog to your desktop!
Featuring: Quarantine Restraints Interior and Exterior Cargo Restraints, EZ-Red Hand Tools and Lighting, EZ-Line Laser Wheel Alignment Tool Kit, Ingersoll Rand NASCAR 231 Red, Tool Aid Body Repair Kits for Steel and Aluminum body, Dust Extractor/Sanding Kit System, MIG Single & Double Pulse Welder, GearWrench Size Dedicated Socket Sets, Launch Premium Code Reader/Scanner, LTI Inflate-A-Wedge, Laser Labs Tint Meter, Proflex Smoke Monster Smoke Machine, FCAR Heavy Duty Truck and Farm Equipment Scan Tool and Much More!
Welcome to the Nortool family.
Nortool, a leading Canadian Tool and Equipment wholesale distributor, serving the Automotive, Industrial and Heavy Duty markets Coast to Coast.
As Third Generation Tool and Equipment Professionals, we are proud of our record of prompt personalized service, technical know-how and large selection of professional quality tools and equipment.
We look forward to servicing all your Tool and Equipment needs.
Auto-Force is a division of Nortool Inc.


Contact us:

Tel: 416-667-1083

Email: Sales@Nortool.com

438 Limestone Crescent
Toronto, Ontario,
M3J 2S4