Summer 2017

Tool & Equipment Buyer's Guide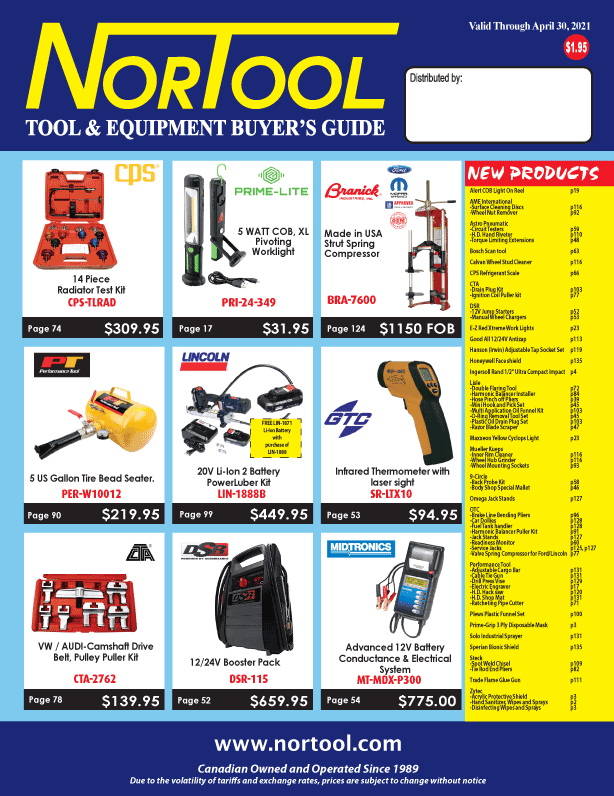 View our Catalog Online here!
Download PDF of our Catalog to your desktop!
Featuring: Milwaukee 7" Polisher Kit, Lang Kastar Heavy Truck 9/16" Bendix & Haldex Auto Slack Adjuster Wrench, CP HFO1234yf COuplers, A/C Technician Starter Kit, Combo HFO1234yf and R134 Manifold Set, Bosch Heavy Duty Smoke Machine, MityVac 1.5L Fluid Extractor/Dispenser, Sunex Truck Transmission Jack, Launch Millenium Go Code Reader and HD Truck Module for PAD IIA, Performance Tool Trim Clip Assortments, Threaded Rivet Insert Kit, Aluminum Polishing Kit, Astro Deluxe Air Windshield Remover, One Person Brake Bleeding Wrench Kit and Check Valve, Calvan Timing Pulley Puller, Tiger Tool Brake Anchor Pin Press, Titan 3-in-1 Riveter, Low Profile XL Ratchet Set, Tamper Resistant Torx Key Set, Tracerline EZ-Shot AC Dye Injection Kit, R1234yf OEM Grade Kit, Lenox Adjustable Hacksaw Frame, Gearwrench Shop Stool, Serpentine Belt Tool Set, Lincoln Lever Action PowerLock Coupler, MotorVac A/C Ventilation and Interior Sanitizing System, CTA Crankace and Transmission Drain Plg Wrench, Torque-Limiting Ratchet Wrench, Maxxeon Pocket Inspection Light, Robinair Aluminum Manifold Kit for R1234yf and Much More!
Welcome to the Nortool family.
Nortool, a leading Canadian Tool and Equipment wholesale distributor, serving the Automotive, Industrial and Heavy Duty markets Coast to Coast.
As Third Generation Tool and Equipment Professionals, we are proud of our record of prompt personalized service, technical know-how and large selection of professional quality tools and equipment.
We look forward to servicing all your Tool and Equipment needs.
Auto-Force is a division of Nortool Inc.

Contact us:

Tel: 416-667-1083

Email: Sales@Nortool.com

438 Limestone Crescent
Toronto, Ontario,
M3J 2S4