Fall 2018

Tool & Equipment Buyer's Guide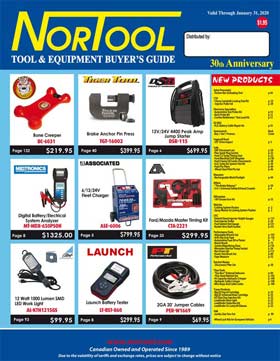 Download PDF of our Catalog to your desktop!
Featuring: New Bosch Heavy Duty Scan Tool for Trucks, Battery Tester with Printer, Astro 3/8" Rivet Nut Drill Adapter, CTA Ford Timing Tool Kit, Cummins Oil Filter Plug, DSR Schumacher Battery Chargers, Flash Reprogrammer Power Supply, 8 Bank Battery Charger, Gearwrench 24" XL Kneeling Pad, Ingersoll Rand IQV 20Volt Rechargeable 1/2" Drive Impact with 60 Lumen Ring Light, 3/4" Drive 20V Cordless Impact, 1" Drive Air Impact Made in USA, Kentool Loose Wheel Nut Indicators, Maxxeon Cyclops Rechargeable LED Work Light, LightStik WorkStar 1000, Lumenator Jr Rechargeable Work Light, Milwaukee 1/2" Magnum Electric Drill, Omega Axle Jack with Free 1" Drive Impact, 40" Creeper with Tool Tray, OTC Sledge Hammers, Pitman Arm Puller for F250/F350, GM Timing Chain Retainer, GM Injector Retaining Clip Replacer, Dual/Single Wheel Separator, Trans Case Holding Fixture, Perfmance Tool 3 Shelf Utility Cart with Drawer, Lock De-Icer, BMW/VW/Audi/Mercedes Trim Clip Assortments, Moving Blankets, Wire Brush Set, Pipe Wrenches, Schumacher Portable Work Light, Storm 12" Electronic Digital Caliper, Digital Depth Gauge, Sunex 20 Piece Screwdriver Set, Tiger Tool Strut Compressor, Brake Clevis Pin Press and more!
Welcome to Auto-Force.
Auto-Force, a leading Canadian Tool and Equipment wholesale distributor, serving the Automotive, Industrial and Heavy Duty markets Coast to Coast.
As Third Generation Tool and Equipment Professionals, we are proud of our record of prompt personalized service, technical know-how and large selection of professional quality tools and equipment.
We look forward to servicing all your Tool and Equipment needs.
Contact us:

Tel: 416-667-1083

Email: Sales@Nortool.com

438 Limestone Crescent
Toronto, Ontario,
M3J 2S4