Winter / Spring 2017

Tool & Equipment Buyer's Guide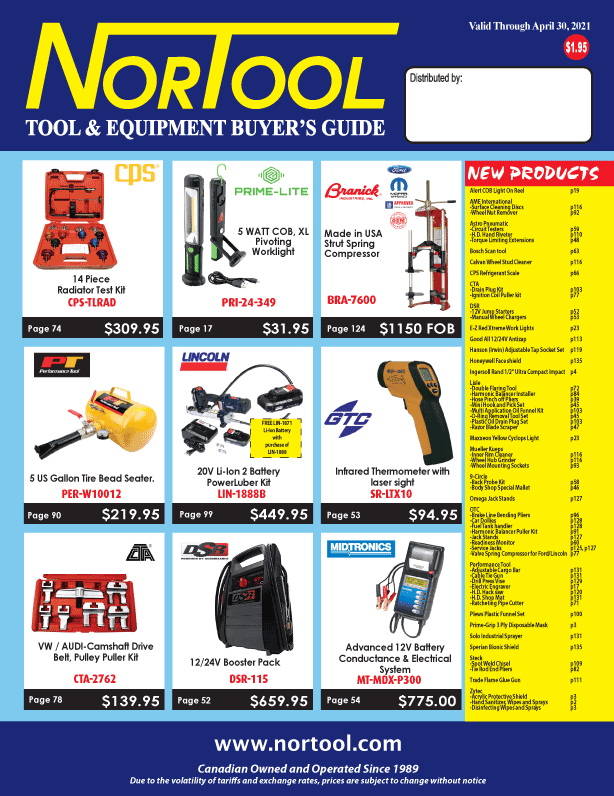 View our Catalog Online here!
Download PDF of our Catalog to your desktop!
Featuring: Quarantine Restraints Standard Series, 9 Circle Chain Drive Extension, EZ-Line Hood Hawk Underhood Light, Laser Wheel Alignment Tool Kit, Emzone 12A and R134a Refrigerants, Titan Welder, Plasma Cutter, Waekon kV/Arc Quick Probe, DSR Batteryless Ultracapacitor Jump Starter, Lisle Kevlar Burn Protection Arm Sleeve, LTI Hub Shocker, Truck Brake Spring Tool and Much More!
Welcome to the Nortool family.
Nortool, a leading Canadian Tool and Equipment wholesale distributor, serving the Automotive, Industrial and Heavy Duty markets Coast to Coast.
As Third Generation Tool and Equipment Professionals, we are proud of our record of prompt personalized service, technical know-how and large selection of professional quality tools and equipment.
We look forward to servicing all your Tool and Equipment needs.
Auto-Force is a division of Nortool Inc.

Contact us:

Tel: 416-667-1083

Email: Sales@Nortool.com

438 Limestone Crescent
Toronto, Ontario,
M3J 2S4